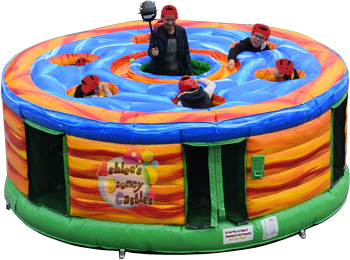 Human Wack a Mole
Have you ever wanted to take a hammer to some of your friends heads?
%uD83E%uDD14
No? Well, don't worry the hammer in this human-sized game is soft and squishy, just like you.
%uD83D%uDE02

Just kidding of course! This game is seriously a blast.



Size:
L14' x W14' x H5'
Occupancy:
7 players maximum
Recommended age:
2-8 years
Deposit:
$50 with Visa, Mastercard or Debit Visa
Price includes set up, cleaning and take down. We will give you a call the night before to confirm delivery times.